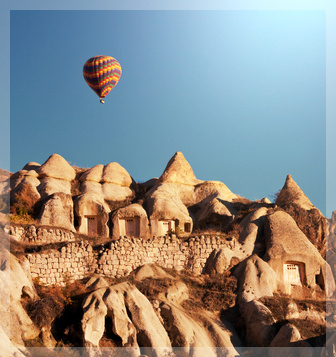 Around 2000 years ago Mount Erciyes erupted, covering the Cappadocia region with lava and ash, which then formed a type of very soft rock. Wind and water then eroded this rock; forming the characteristic unique fairy chimneys the area is famous for today.

The ancient people of the region carved out their homes, churches and monasteries in this unique landscape. This unique and surreal landscape is why so many of our clients ask us to organize trips to the area. We organize private tours around the area, including all the museums and other cultural sites.

We always arrange the very best and most delightful hotels and most comfortable private transport for our clients. With regular and frequent daily flights to both Kayseri and Nevsehir Airports from Istanbul, it makes a great add on weekend trip if you are visiting Istanbul.

The flight is only just over an hour long and the transfers from both airports are in the region of an hour to Cappadocia.