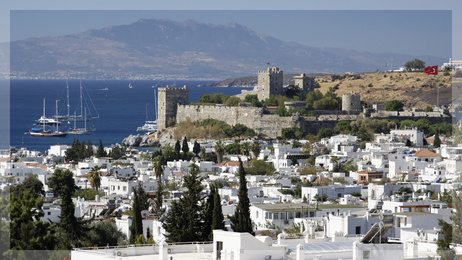 Bodrum is well known for being Turkey's answer to St. Tropez but it also has its quieter less well-known sides. Bodrum has something for everyone: detox centres and quiet but palatial villas for those who want to rest, relax and recover: 5 star hotels such as the Macakizi, beach clubs and world-class nightlife for those who prefer to paint the town red.

It also happens to be one of the top destinations to begin and/or finish a trip along the Turkish coast (a Blue Voyage), therefore making it a great destination to combine a stay on land with a few days on a yacht.

Due to the relatively close proximity of Pamukkale and Ephesus there are plenty of opportunities to do some historically and archeologically orientated daytrips. However, if you prefer to spend your time exclusively in the Bodrum area, but would also like to fit in some history, the Bodrum Museum situated in the harbour front castle is a great place to visit.

Bodrum is one of our client's favourite destinations; we are therefore highly well connected in the area. If you would like any further information or would like to make a reservation, our team will be happy to help.