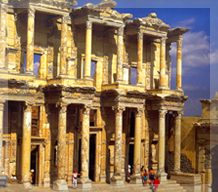 What they said about us...
Turgut Yildiz: We had an unforgettable trip to Japan.From the choice of hotels to the organization that went without a hitch,everything was wonderful.Especially the guides and the transportation pleased us enormously..Without any problems,we visited the four cities of this faraway country to our hearts content and learned about their culture.On behalf of my family and myself,I would like to thank you and your company.We hope to see you for other trips.
Tom Preston: Thank you so much for all your hard work organising everything for us - you have been a star! We had the most wonderful time and thank you for all your perfect arrangements! Everything was magical.
Oya Akinci: The Daga family was very pleased with their trip to Istanbul. The called us excitedly the day they returned. Thank you very much for your help.
Hannah Rothschild: We had the holiday of a lifetime………However nothing prepared us for the glory of life at sea and white wings. Thank you both so much for the trouble you took and for the impeccable advice. I've fallen in love with Turkey and will be back very very soon.
Mehmet Eren: Thank you so much for joining the opening party and the great support we get from your side. Special thanks to Francesca and Omer for the organization and Ben for the hard work done. There was a great team work with all the names above and it was really one of the best opening party I have ever attended and we will keep you posting all the coverage we have by next week. Thanks to you all one more time.
Daniel Lombardi:……..thanks again for ALL YOUR AMAZING HELP !!!!....
Elizabeth Cohen: ……Thank you for everything! We had a fantastic and memorable time in Cappadocia and look forward to retuning to Turkey for more adventures…...
Tom Preston: ……..Thank you so much for organising our lovely week on the boat last week. We had a truly wonderful time…...
Stuart Barton: ……..Just a note to thank you for all the kind help with the travel plans to Istanbul……….I hope to be able to use your services again, and will make sure to recommend you to others…..
Kristina Rae Grimaux: ………thank you for everything, it was great fun, see you next time…..
Turgut Yildiz:, Once again,in one word,the organization of our trip to Tanzania was excellent.We spent a wonderful family vacation as we expected without any problems.Thank you for your excellent organization and your fastidious work.
Vera Santo Domingo: You are a magician! Thank you so much.
Andy Wong:  ….Thank you very much for organising everything so well. It was a hugely enjoyable weekend…… See you again in Istanbul soon!
Natalie Baragwanath: Thank you so much for all your work, the party was a huge success!!
Peter Coroneos: ……I would like to personally thank you for the amazing experience you both made happen this past week in Istanbul. Everyone truly enjoyed themselves and like any trip there are always problems. All of my problems were solved you immediately! You both made my trip extremely comfortable and EASY. THANK YOU from the bottom of my heart. I would certainly refer your services to anyone……..
Liz Style: …… what a fantastic trip – thanks to you! Thank you so much for all your organisation you were so patient and fabulous, and I appreciated so much everything that you did!.......
Jayne Hoffman:…....This note is purely to thank you both for your help and all that you did to make it easier for Eric's guests……….Thanks again for all your help……
Rana Erkan:….Thanks to everyone that made an effort to make last night a success. The organization meant a lot to my self and family. This morning we woke up in peace and serenity. Thank you again and all the best…
Sezai Taskent: ….you did a wonderful job for us and I'm already planning next years party….
Pam Clark: … First of all I want to thank you for the wonderful job you did in organizing our trip. You were on top of all changes and had wonderful suggestions. The trip went smoothly without a hitch…..
Camilla Paracchi: … It was really a pleasure dealing with you and your team. Thanks a lot for the effort in trying to reach and satisfy all our needs and request (even the last minute ones..)

Rachel Abbot…..I just wanted to thank you again for all your help setting up Waldo's (and all others in the party) trip recently. I know we were all over the place with our reservations, so I appreciate your patience and attention to detail!.....
Lia Ojjeh……..Thank you so much for everything, we had an unforgettable time!!......
Brooks Firestone………Kate and I had a splendid visit to Turkey. All the arrangements worked on schedule and perfectly. Our singing tour went well also, and we appreciate the added excitement of the demonstrations. Many thanks for your help. …..
Mashadi Motlana…....Thank you for all your assistance. I really appreciated your friendly and professional service………
Edward Spencer Churchill……Thank you for arranging the most amazing trip. Istanbul is a stunning city and it was one of the best family breaks we have ever taken…….
Yana Peel……..Thank you very, very much for your amazing contribution to the success of the weekend!.......